If Art Isn´t Seen, Does It Exist?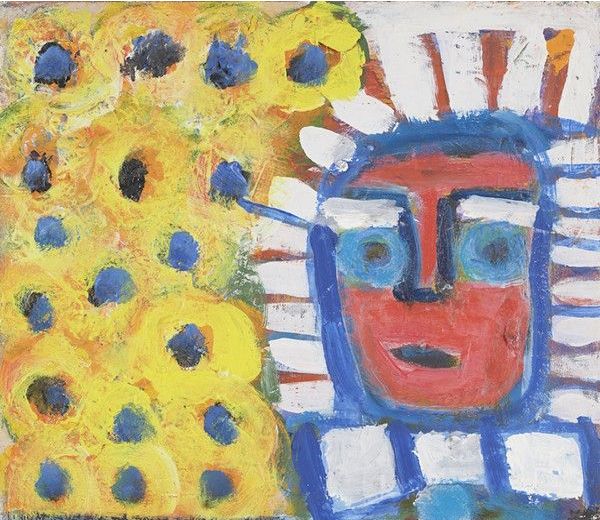 As an artist who only started making art after age 60, the struggle to get people to look at your art is constant. An individual generally makes art, but it's meant to be seen by people. So if no one ever sees it, is it art?
In the mid-70s, Eddy Mumma retired due to health issues and was mostly confined to his home, so he decided to take up art. He painted continuously for the next ten years, filling his house with fanciful portraits in a personal style, yet few people visited or saw what turned into hundreds of works. He turned away collectors, preferring to keep company with the smiling faces on all the walls.
A collector came to his house to again try to convince Mr. Mumma to sell but discovered he had died, and his family was apparently about to discard much of the art, so he bought most of the works on the spot, and now the art is well known.
Without the chance opportunity, the art might have vanished. I saw an extensive collection of Mumma's faces in a local museum a couple of years ago, and they were distinctive and unique. Art is something to be shared; once lost, it can never have an impact again.
There was a somewhat famous landscape painter, Louis Dewis, who, after he passed away in 1949, had all of his remaining paintings stored in crates in an attic which was not rediscovered until 50 years later by his then 92-year-old daughter. I've seen these as well, and they are excellent, yet they could easily have been lost forever.
I have no idea how many artists there are in the world (I always say 10 million), and most of them are entirely unknown, creating art that no one ever sees. So how many amazing unknown works are there out there?
Art should be seen, preferably in person, as looking at art on the phone and swiping away with a flick of your fingers leaves no lasting impression. Since most of my digital art has never been printed, I haven't truly seen them. I find NFTs (and the fancy new names people use to avoid calling them NFTs) not very interesting since if any are bought, no one ever sees them again. Art is a shared joy.
I hope someday that people will be able to see my art in person (as would I). Vincent Van Gogh died without knowing how much loved his art would become, thinking of himself as a failure and a burden, which I am sure did not help his mental issues. Likewise, I think most artists would love to have people experience their art and share their appreciation.
If I ran an art museum, I'd always make a little room to show art from undiscovered artists, not only those already well-known and famous.
Mr. Mumma never knew that others would enjoy his faces as much as he did. But, of course, he might have enjoyed them even more if he knew they would continue to inspire long after he was gone.